Butterfly Aviary
The butterfly aviary was created by the Holliston Agricultural Commission in 2015. Member PJ Kilkelly brought this project to the commission and saw that the project came together. With a lot of hard work and incredible donations from the Holliston Newcomers Club and Scott's MiracleGrow500, and our fund raiser "Kiss the Pig" we raised almost $10,000,
This project is will begins its second year in 2016 and donations towards operating expenses are graciously accepted. If you are interested in helping, volunteering, or raising butterflies, please contact the Holliston Agricultural Commission.

There is no entrance fee at all for the butterfly aviary but we are accepting donations! This project was made possible by generous donations. Please send your donation to:
Holliston Agricultural Commission
703 Washington Street
Holliston, MA 01746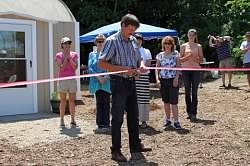 Butterfly Aviary Rules
Aviary is open 7 days a week 8am-7pm (During "open" season)
Please no children should be inside the aviary without adult supervision
Please no touching or trying to catch the butterflies
Watch your step as butterflies are often on the gravel and you could step on them
No running, bug repellants, picking up the butterflies or the plants, dogs, food or drinks allowed inside
Please do not place hands on the netting
Before you leave, please check yourself to make sure you don't have any butterflies on you
Butterfly Aviary is now closed for the season!!